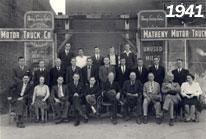 L.G. Mac Matheny founded Matheny Motor Truck Company in 1922. In 1908, at the age of 22, Mac left central West Virginia and arrived in Parkersburg to attend Mountain State Business College. Upon completing his education in 1911, Mac was hired by International Harvester Company. Mac remained with International Harvester until 1922 when he became the International Harvester Truck & Farm Equipment Dealer in Parkersburg. Mac was actively involved in the dealership until 1962.
Mac's son, Paul Matheny, a graduate from the Wharton School of Business at the University of Pennsylvania in 1933, joined Matheny Motors in 1952. Prior to joining Matheny's, Paul worked for International Harvester until 1941, at which time he returned to Parkersburg to work for Corning Glass. In 1946, Mac & Paul purchased Litman Motor Freight, with Paul running this company until 1952. Litman Motor Freight was sold in 1956. During his tenure at Matheny Motors, Paul also served many years on the WV Turnpike Commission, President of the West Virginia Motor Truck Association, and President of the Parkersburg Rotary Club. Paul retired from the dealership in 1984.
Mike Matheny, third generation, joined Matheny Motors in 1969 after working for Enjay's Fibers and Laminates division of Exxon Corporation in Odenton, Maryland. Prior to this, Mike graduated from West Virginia University School of Business. Mike has held various National Dealer council positions for both General Motors and Volvo Trucks of North America. Mike is past President of the West Virginia Automobile and Truck Dealers Association and was the American Truck Dealers Line Rep for General Motors. Mike is currently the C.E.O. of Matheny Motor Truck Company.
The fourth generation of the Matheny Family joined the company in June 1988 with Mike's daughter, Marni Matheny Kepple, as Treasurer along with her husband, Dave Kepple, Vice President. Both Marni and Dave graduated from West Virginia University School of Business - with Marni in Accounting and Dave in Management. Prior to joining Matheny Motors, Marni was employed by the General Accounting Office in Washington D.C. (Marni is a C.P.A.), and Dave was employed by the Southland Corporation managing ten 7-11 stores in Northern Virginia. Dave is also Vice President and Co-Owner of Matheny Leasing, a Full Service Leasing Company and a NationaLease member.
June 1991 marked the addition of Tim Matheny, Mike's son. Tim graduated from Indiana University School of Business in Bloomington, Indiana with a B.S. in Marketing. While attending Indiana University, Tim worked at Curry Buick-Pontiac-Cadillac-GMC under the supervision of dealer Cary Curry. Tim is also a graduate of NADA/ATD Dealer Candidate Academy in McLean, VA. Tim is President of Matheny Motor Truck Company, President of Matheny Leasing, Inc., and currently serves as Chairman of Hino's National Dealer Council.
1941
MATHENY MOTOR TRUCK COMPANY TIMELINE OF EVENTS
In 1922, Matheny Motor Truck Company started with International Harvester Company and sold their products until 1962. 
In 1956, GMC Trucks was added and that relationship continues to this day. 
In January 1988, the Volvo Truck franchise was acquired. 
In 1990, Matheny opened its off-site Collision Center at 18 12th Street in Parkersburg. This 10,000 square foot facility sits on two acres and includes a 40ft down draft paint booth. 
November 1997 marked the addition of the Buick line of Automobiles to team up with light duty GMC Trucks. 
In the spring of 2001, Matheny added Jerr-Dan Wrecker Bodies and Rollbacks. 
In 2003, Matheny became the Thomas Built Bus Distributor for West Virginia, marking the end of a 13 year relationship with The Blue Bird Bus Corporation. 
Suzuki automobiles were added in late 2005. 
In April 2007, Matheny Motors opened Matheny Jerr-Dan in Woodbridge, Virginia. The facility occupies three acres and includes a state of the art 10,000 square foot facility. 
August 2007 saw the addition of the Hino Truck Franchise. Hino Trucks recently opened its only US manufacturing facility located in Williamstown, WV. The Hino plant is 15 miles from Matheny's Dealership. 
In November 2007, Matheny Motors purchased the former Benson Truck Manufacturing facility located in Mineral Wells, WV. Matheny's Commercial Truck Division opened in this facility March 10, 2008. The facility sits on 16 acres next to Exit 170 on I-77, with 50,000 square feet under roof, including (13) 70 foot truck repair bays. 
December 2007,Matheny Motors expanded its commercial truck line with the addition of Isuzu Commercial Trucks. 
October 2009, Matheny Motors Factory Outlet opened in Marietta, Ohio. This location sits on five acres and specializes in pre-owned vehicle sales and service. 
March 2010, Matheny Motors PROUDLY became a Full-Line Miller Industries Distributor. This marked the end of Matheny's Jerr-Dan relationship. Matheny now sells and services the following Miller towing and recovery products: Century, Vulcan, Chevron, Holmes, Challenger, Champion, and Titan Equipment. Matheny's territory covers Northern VA, Washington DC, West Virginia, and Ohio. 
December 2010, Matheny Motors added Landoll Trailers to its Commercial Division. 
January 2011, Matheny Motors became a Freightliner Dealer for the state of West Virginia. 
Summer of 2011 Matheny Motors added a Hino Truck location in Nitro, WV to serve the Charleston market area.  
July 2012, Matheny Motors added M.A.C. Trailers.  
January 2013, Matheny Motors purchased McCoy Freightliner in Huntington/Ashland market area. Matheny Motors is a Freightliner, M.A.C. and Landoll Trailer dealer, and Miller Industries wrecker and recovery dealer. We are also a service point for Thomas Built Buses and Hino Trucks at this location as well as a dealer for Detroit and Cummins.  
February 2014, Matheny Fire & Emergency Division was created with the addition of KME Kovatch Fire Apparatus.  
June 2014, Matheny Fire and Emergency acquired key personnel and assets of ABC Fire in southern West Virginia.  
August 2014, Matheny Fire and Emergency continued with great growth. The addition of Antietam Fire Apparatus's key personnel and assets grew the Fire division into Maryland along with being named Demers Ambulances dealer for West Virginia and Ohio.  
Fall 2014, Matheny Fire and Emergency became the West Virginia and Ohio Demers Ambulance dealer. 
Summer 2015 All 3 Matheny Truck Center locations became Freightliner Express Assessment facilities 
August 2015. Amkus Rescue Equipment names Matheny Fire & Emergency distributor WV, MD, VA 
With the third and fourth generation owners involved in the daily operation of business, Matheny Motors has over 300 full time employees. The entire Matheny family looks forward to exceeding each customer's expectations and providing the best sales and service experience you will find in an Automobile, Truck, Bus, Wrecker, Fire, Ambulance and Trailer Dealership - That's our pledge.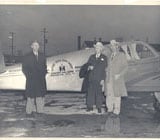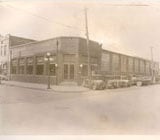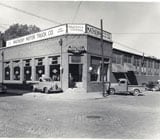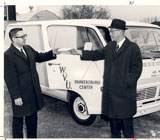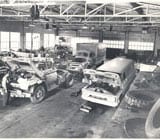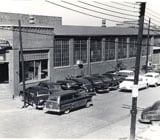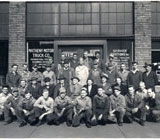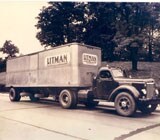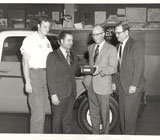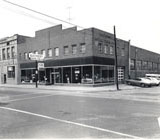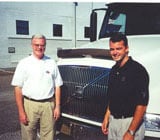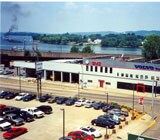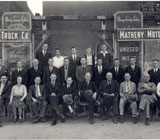 PARKERSBURG WV NEW BUICK GMC DEALER AND PRE-OWNED DEALERSHIP
The Matheny Motors dealership has locations in  Parkersburg WV, Marietta OH, Mineral Wells, WV, Nitro, WV, Kenova, WV, Beckley, WV, Hagerstown, MD  and Woodbridge, VA. Our tradition of excellence started in 1922 and has continued to provide our customers with exceptional service. Our vehicle line-up includes WV GMC dealership, WV Buick dealership,  GMC dealership for Light and Medium Duty Commercial, Freightliner, Isuzu trucks, Hino trucks, Miller Industries Towing Equipment, and Thomas Built Bus. We also have a large selection of GM Certified pre-owned vehicles. Searching for a used car, truck, or SUV? Matheny Pre-Owned Superstore can help you get a used vehicle you need at a price you deserve.Nitro WV Parkersburg WV Marietta OH PreOwned Superstore Locations